'How do you do it?'  This is the question most often asked of my husband and me, and now in more recent times, of our sons.  It seems a rhetorical question after 26 years of working together and sharing an office, but it appears people are interested in how we can spend, largely, all day in each other's company.
Our answer over the years has been, "We each have our jobs and rarely do we cross over."   Now that we are four, there is a certain amount of 'cross over'.  As our sons learn their roles within the business, put their stamp on the position and work at making both of us redundant, we share our knowledge and pass the baton.  They are our succession plan along with a competent and efficient daughter-in-law and a dedicated and long serving group of employees.
We are a board of four.  We argue, disagree, sometimes vehemently, but always we come to a decision, even if it's to agree to disagree.   We discuss all aspects of the business, from staff issues to the purchasing of equipment, to new products and new processes.  Sometimes the first generations' experiences override those of the second.  At other times the first generation acknowledges the different thinking methods of the second generation and new processes are implemented.   We respect and encourage lively discussions on all topics.
Over the last two years we have invested more than $12million in new premises.  We started as the Global Financial Crisis hit the world but after spending the previous two years in the design stage we decided now was the time to build.   These last two years have been both exciting and trying as we have discussed, argued and finally decided on each segment of the building.  From the colour of the tiles to the colour of the toilet partitions to where each department would be best suited to how the security system will work.  We have met every week with the builder and a myriad of contractors, for two years.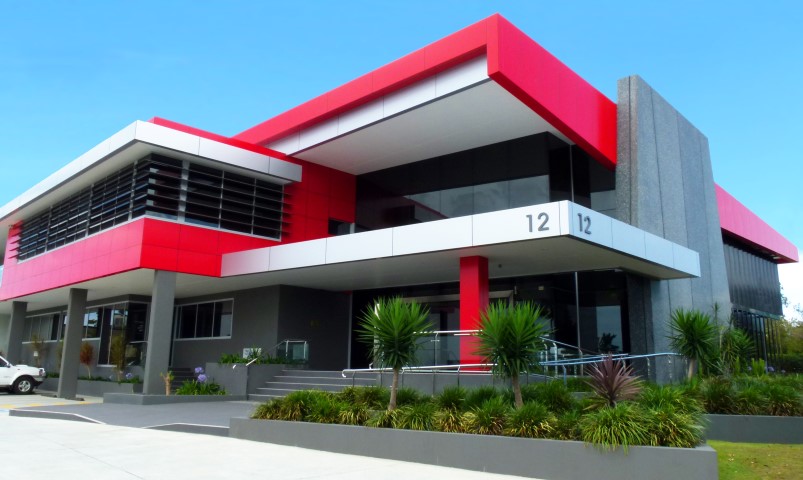 The business has continued to prosper because we are family, we respect each other's opinions, and we have mutual goals; to be successful, resilient, accumulate and preserve our assets and to still be here in another twenty years.  We started with a computer and fax machine.  The latest technology played a vital part at the beginning and is still one of our biggest strengths.
Our business started in 1984 under our first home and in 1988 we moved to our current premises.  The boys were both young, but as is the case in many family enterprises, the dinner table and the car were often the centre of business discussions.  Who owes us money, who ordered goods, what components are we waiting on; they soon learnt the 'speak' of our particular business.
Before entering the business, as both were unsure of their particular career paths, it was suggested they find work elsewhere.  One completed a four year apprenticeship in Refrigeration and Air-conditioning then spent another two years overseas working and travelling.  The other honed his skills in CAD packages and computer operated machinery.
In 1996 the youngest started work as Information Technology assistant to his father and in 2001 the eldest began as Service Technician.  They worked their way through different departments and now the IT assistant is Operations Manager and the Service Tech is Financial Administrator.  Both are directors and given full voting rights on all decisions.  Because of their previous experiences they were able to bring a new dynamics to the business that strengthened its place in the world.
We are a private manufacturer and wholesaler, and as the word implies we keep our business private.  We have had a number of successes, winning awards for product development and innovation.  We are conservative in our borrowings, we make plans that are flexible and can change to accommodate the current economic climate.  We have a vast depth of experienced staff, some of who have been with us ten to twenty-five years.  This gives us a resilience unchallenged by the larger private and public companies whose internal structures limit their ability to change direction and diversify quickly when the need arises.
It is only now in the 21st Century, that government worldwide have begun to realise the significance of the Family Business.  There appears to be a lack of information within Australia which in turn restricts representation of the family business to the decision makers.  The Australian Bureau of Statistics does not collect data such as who is a family business, what is their turnover, how many staff do they employ.  With companies like BDO, KPMG, PWC recently conducting research and surveys into the structures, strengths, resilience, growth and progression of these businesses, the statistics are now showing them to be a powerful economic force worldwide.
Family businesses account for at least 67% of the private business sector in Australia and employ more than half the country's workforce.   In the USA, 50% of gross domestic product comes from family businesses and in turn these businesses make up 35% of the Fortune 500 companies.   These same family companies are also responsible for 60% of the nation's employment and 78% of all new jobs created.
In Canada 50% of all private companies are family businesses.   In the UK 65% of private enterprises are family businesses. In 2010 these family businesses employed over 9.5million people.  In South Africa of the 1.4million active private enterprises 1.1million are family owned.  In New Zealand family businesses make up 75% of companies and provide 80% of all employment plus 65% of GDP.
These are staggering figures and one may ask if family businesses account for such a significant portion of private enterprise and are responsible for up to 50% of the world's employment, what are the strengths that contribute to their success.  Also why does it appear governments worldwide have not acknowledged their contribution?  Still another, what are the challenges of running a family business?  They're not all small organizations, some are large corporations, some medium, but no matter the size, globally they are a powerful economic force.
Worldwide these businesses are competing in their markets with large multinational corporations; corporations that have significant economic power; corporations that are encouraged to extend their trading hours; corporations in countries where governments' legislative weaknesses are in addressing anti-competitive practices.
So in asking these questions and in considering the possible responses, I decided to conduct my own survey.  As an Australian family business with an office in Sydney and a worldwide distributor network I felt qualified to ask the questions and analyse the responses. As I began my research I realised I also had a wide range of friends and acquaintances with family businesses, so I included them in the survey.
For the purpose of my survey, my criteria for classifying a business as a family business, was that at least one member of the family was either a director or partner and had a role in management and control of the company.
My questions were very generic and the answers enlightening.  Family businesses develop business arrangements, processes and organizational structures to suit family ownership.  Often the business appears to be an extension of the family taking on family values, employing family members of current and past staff and having a strong desire to grow and preserve the business for future generations. The future of the business will depend on how many family members are employed, what their positions are, and how much power they wield.
Some of the issues these businesses deal with are wealth, the accumulation of business assets, family member salaries, succession, the passing on of the wealth and assets, management of the business and family jealousies.
As is the case in all business, private, public or family; the main aim is to make a profit.  How this profit is distributed depends on the type of business.  Public enterprises and in some cases private business have shareholders to please, family only have family but family can be far more critical and demanding than the shareholder.
My research found family businesses to be resilient, flexible and having a survival ethos that many larger public companies could well learn from.  They have the ability to respond quickly to adverse conditions, downturns, loss of staff.  Their preference is towards employing multi-skilled people where the old adage, 'that's not my job,' is never uttered.
During the recent worldwide recession the businesses I surveyed displayed a commitment to their staff and the continuation of their business by finding jobs rather than downsizing.  Even if those jobs were gardening, washing company cars, cleaning the office or being redeployed to other departments.  Some elected to reduce hours worked or arrange unpaid leave, but for most, they were able to maintain staff levels for the times that would certainly come, when the recession was over and business was booming.  Because these businesses are conservatively geared, have long term goals and keep higher retained profits in their business they were better placed to hold onto their staff.
Staff within these family businesses appreciate the continuity in the business, the openness of management to future plans and the all-in it together mentality which binds them to the company.  As demand declined during the recession for many of their products, but the company continued to survive, staff saw this as an indication they had coped well and coped as a team.  My survey showed there is no 'I' in team and the family business is no place for over active egos.
As was stated in the KPMG and Family Business Australia Survey of 2009, 'the family businesses ability to respond quickly and effectively to the emergence of difficult business conditions has been a factor in Australia's ability to avoid the worst of the global financial crisis and economic recession.' They have a long term focus with a conservative approach for a long term gain; wealth and longevity.
The average age of the businesses surveyed was 32 years, the youngest being 7 years and the oldest 70 years.  Most were still first generation and in some cases having second generation working within the business.  One was third generation with no succession plan and no likely heirs.  One had been sold to management and the original founders retired.  Many had no formal succession plan.  In these cases outside people were been bought into the business with the plan to eventually buy out the original founders.  It would appear many don't see their daughters as suitable heirs.  Maybe it's the nature of the business or possibly the daughters have shown no interest, but this fact of daughters inheriting family businesses opens another set of issues.
A number of surveys have shown only 7% of businesses have daughters involved and 2% have sisters.  These surveys also state 27% of sons will succeed the original founders while less than 6% of daughters would take over.  For the sake of the respondents in my survey, which are predominately male dominated businesses, it would seem natural for sons to inherit the business.  Although the question begs answering, for those businesses that has daughters only, would they have considered bringing those daughters into the business in a managerial role.
As I was not aware this was such an issue, I didn't ask the question.   I wonder if those daughters had shown an interest in managing the business would they have been given the same opportunity as their male counterparts.  For someone who has always been an equal partner in their family business this question has never needed to be asked.
To have to sell a family business rather than bring a daughter in to manager belies the meaning of a 'family business'.  One would think there would be a support mechanism within the family business structure to consider these situations.  But it seems even in 2010 women/daughters are still struggling to break into family owned businesses.
A family business is exactly as the words imply, family so whether your family is made up of daughters or sons or both, if they want to be part of the business they should be given equal opportunity.   The dominance of family business has nothing to do with the gender as there are many successful women owned and run businesses, and many women have continued successfully to run businesses when their husbands have died.  You only have to look at the likes of Janet Holmes a Court, the now deceased Sara Henderson, the Australian Pastoralist and Dr Betty Byrne Henderson AM.    Maybe this topic is fodder for another survey.
I began the survey with questions on how long had the business been operating, what was the nature of the business, who was the founder and if the business had or did employ other family members.
As I have already stated, the average age of the businesses surveyed was 32 years.  As we are a manufacturer of electronic controls for building management systems and most of the participants were our distributors, the nature of their business was either electrical contractors or controls companies servicing the building management industry.  However, as I did include friends and business acquaintances, I also received responses from the fibreglass industry, hoteliers, motor and boat trimming and a retailer in giftware.
Most of the businesses surveyed were husband and wife teams.  One was brothers, another brother and sister and others, parents and their sons.   Over the years, sisters, brothers, brother-in-laws, aunts, nieces, nephews, all either have worked or currently work in these businesses. Family participation influences the business structures and its growth.  There seems to be a joint effort and compelling reasons to be proactive, strong and grow the business to its ultimate potential.  Everyone benefits; happy, contented workers make for a happy contented management.
From these initial questions I was able to determine, separate from any surveys I had researched, that family businesses had longevity, even though most were still in the first generation, that they can be found in all areas of business and that their dominant structure is of a single-family kind.
Below are the remaining questions and the responses of those I surveyed.  Although there was a degree of variation in the responses, I found most businesses were contending with similar issues.
Of your non-family staff members, have you or do you employ any of their relatives?
As has been stated previously, family business is an extension of the family and often times take on family values.
In a number of cases sons of past and present employees were given an opportunity to commence an electrical apprenticeship, nieces were offered a year's work during their gap year.  Sisters, brothers, cousins were offered jobs while studying at university or TAFE.  In other cases brothers and sisters were offered full time positions.  Family business also seems to be a breeding ground for romantic liaisons with some leading to marriage.  Many of these situations would not occur in large private or public business where fraternising or romantic relationships are frowned upon.  Important to note is that all of the above were not related to the actual owners of the business.
Do you have a succession plan in place?
The results were similar to those of the KPMG survey.  45% said they had an exit plan in place, even if it was a staff buyout or an external appointment. Some already had the second generation in place; some had deferred their retirement due to the economic downturn.  By postponing their retirement they hoped to increase the businesses profits thus handing over a better financially situated company to their younger less experienced successors.
The ability of the business to generate adequate financial returns was one of the most important influences in the transition from one generation to the next.
What do you believe are the challenges within a family business?
Most participants cited maintaining happy and stable family relationships while being successful, as one of their major challenges.  Confusion over when you are a boss and when you are a father or mother was another. When the owners are husband and wife this confusion often carries on into the home.
Maintaining a balance between work time and family time, when the business is carried on from home, can be quite a challenge. For some it was the wife having to balance her own career with being a mother, wife and business partner.
For our USA distributor, having to learn all the intricacies of running a business when your day job is being a nurse, certainly presented a challenge.  It seems the USA government has acknowledged the contribution of small to medium family businesses.  They have set up a small business association where free advice is given in accounting, tax compliance, importing and that greatest challenge of all businesses, debtor collection.
All our overseas distributors have the added challenge of exporting from their place of residence to neighbouring countries like Canada, Puerto Rico, Northern Ireland, The Irish Republic, Uganda and Zambia.  When taking into consideration that these companies are all family businesses most husband and wife teams and not multi-nationals with separate importing and exporting departments, their success and the knowledge they gain is a great achievement.
For these same distributors, importing Australian made products and learning and understanding trade agreements between our countries has been one of their greatest challenges.  Having knowledge of these agreements greatly assists in keeping costs down when importing goods.  Knowing the right harmonization codes and completing the paperwork correctly has been and will continue to be a huge learning curve for all our distributors.  The time differences worldwide also creates a challenge for our overseas distributors and often results in long late hours as they try to connect to us via the phone.  Email has greatly reduced this problem but there are still times when a verbal conversation is the best option.
The issue of working hours was a hot topic; overtime being unpaid and expected with no clear delineation between work life and home life.  Disputes in the workplace between siblings often carried over into the home as did those of fathers and sons, husbands and wives. Taking the time to listen to each other was of great importance.  Not only the ability to listen, but also to take on board suggestions made by the younger generation was a challenge for the older ones who were in the habit of making their own decisions.
Other challenges have come from the outer family circles, who at times have displayed jealousy and resentment towards the principal owners due to their position and the benefits they receive.  This coupled with the feeling of obligation to employ family members when there are clearly better suited people for the position, has often lead to disharmony within the business.
The fact that in a family business the buck stops at you, you are 'IT'.  Often there is no one else to ask, there is nowhere to run or hide when things are not going so good.  You still have to get up tomorrow and go to work irrespective of the situation.
There is also the perception that 'you own the business therefore you can afford to do what you want.'  Unless you have been there, used your home as collateral to start the business, stayed up all night trying to get the figures to balance, worried over the next tax bill or wages bill, worried about where the next job is coming from, then you don't know and can't know the challenges and sacrifices made by the business owners of family businesses.
Of course there are challenges in a family business the same as all businesses; creating a reputation for being the best in your field; finding and training apprentices and then the challenge of keeping them in the business.
Having positive, productive and motivated staff is an essential element, as is managing the business, having a proactive bank manager and a supportive and trustworthy accountant.
Possibly these are more of a challenge for a family business than the large private ones who can afford to employ their own accountant or are more savvy in the banking world.  An accountant who is up to date with all the relevant company tax changes and able to offer precise and accurate business options and compliance information is invaluable.
Because of the wealth generated by these family businesses and their normally conservative financial dealings you would think the banking industry would acknowledge they were one of their largest most reliable customer bases.  Instead they increase interest rates on overdrafts, business loans and general bank fees and take more security; another challenge for family business on their way to prosperity.
Having a reliable and user friendly accounting system with good support, is essential no matter what business you have.  Being able to see your monthly sales, your gross profit, where you are spending the most money; all these are must haves in the daily life of any business.
We were fortunate enough to have on site a software writer contracted to our Research and Development department.  After buying a number of different accounting packages and finding them inadequate, we sat down with him and devised our own system.  As a manufacturer of industrial electronic products and a wholesaler of the finished item we needed a program that accounted for all the parts, labour and manufacturing mark-up.  It took a while but this program is now being used by our company plus a number of our distributors.  And another family business has emerged successfully through hard work and perseverance.
What do you see as the positives within a family business?
A greater degree of business commitment and a feeling of joint ownership leading to business growth were seen as positives.  Because the business is regarded as an asset owned by the family there was always the possibility of using it as security for housing loans or investment properties thus growing the collective wealth of the family.
Then again there were some who believed each person was better able to understand the other and their behaviour, knowing what sort of day was had.  With a husband and wife team nothing was hidden.  Each was at all times aware of the financial status of the business.  In these situations, trust, was of paramount importance. Having a common interest and working to the same goals was seen as a positive.
Another was often told by people from outside his business how 'lucky' he was to have his own business.  But as all business owners know, the harder and longer you work the 'luckier' you become.
Having control of the families' destiny and the rewards and benefits offered to the children of these families gave those same children a good working ethic.  Whether they worked in the business or had their own careers, if they were brought up in a family business environment where hard work was rewarded they made great workers themselves. Loyalty and dedication from family members given opportunities they may otherwise not have received, was a major positive.
For some families having a plan to pass on the business to their children, the satisfaction of working with them, watching them grow and reach their potential was seen as a positive. Setting business goals and challenges for the second generation focused their commitment on the business for the long term, ensuring its survival.
Working from home provided flexibility and allowed both parents to work around school times and school holidays.  Stress levels were lower when working for yourself and the independence of not having to answer to anyone was seen as a positive.  Having a husband at home for dinner time and spending quality time with the children was also seen as a major positive for all the family.
Many family businesses have focused on opportunities which presented themselves during the recent economic downturn.  This has given them a new direction which can now be nurtured and grown, as business confidence worldwide recovers.
What do you feel are the potential employment growth deterrents within your state or country?
In Australia the cost and time of compliance requirements from government bodies, whether it is for apprentices, industrial awards, Workcover regulations is a major impediment to potential employment growth. Each year the government, state and federal, change the business regulations without consultation of family business.  Trying to keep up and comply means business spends more time checking on the rules and changing their systems and process to suit, than running their business.
For some businesses finding unskilled labour, training them and then keeping them can be a deterrent to growth.  Once time and money has been spent on training good staff the next impediment is keeping them away from poachers.   Many of the larger companies that can afford to pay higher wages wait and watch.  They know smaller family companies spend quality time training their staff; multiskilling them; they know the wages paid and when the opportunity rises, they pounce and often a bidding war can start. As is often the case, the higher wages are an incentive to move on, but many find the grass is not always greener with quite a few returning months or even years later. Within our business we have many second time employees, for a variety of reasons.
In 1994 the South Africa government instigated an affirmative action and black economic empowerment policy: BEE.  To achieve a top rating and do business with government enterprise or state, businesses must apply the codes.  BEE is a growth strategy targeting South Africa's weakest point, inequality. Therefore if your company excludes any of South Africa's citizens you will be unable to enter into public-private partnerships or buy state-owned assets.  The regulations and laws to achieve these codes were seen as a deterrent.
Unemployment benefits paid in Australia are so high and easy to obtain that this in itself can be a deterrent for people to look for work or to stay at work.  This then causes difficulty in those businesses that employ unskilled labour.  Do we look overseas, as Australia has done in the past, or could this problem be avoided if the government wasn't so keen on giving handouts?
Social behaviour, management policies, trading hours, trade restrictions and marketplace domination by national and multinational companies is a huge deterrent to staff growth.
Cost of advertising for new staff through recruitment agencies, on costs associated with staff, sick leave, leave loading, superannuation, parental leave, compassionate leave, workers compensation, overtime penalty rates, payroll tax.  Some of these are legitimate costs but when looking at the history of leave loading we find this was introduced in 1973 because employees under the Metal Industry Award couldn't earn their usual overtime or other penalties while on holiday.  Is it any wonder often times we feel like quasi tax collectors?  When the government overspends or decides to sell off all its assets, they increase our taxes to cover their costs.
In the United Kingdom there will be an increase in the VAT and Corporation Tax in January 2011. Legislation changes and more pointless paperwork providing statistics for more useless government departments to crunch and return to the business as ever increasingly meaningless information. When the bureaucracy gets it wrong and sends out ten revised personal tax codes in a three week period, this certainly is a deterrent to increasing staff.
Many of the companies surveyed believed there wasn't enough done by government for the family businesses who are the backbone of the nation.  Statistics show this to be true when 50% of the world's employees work in family businesses.  Now that the government is aware of the potential within these family businesses, they appear to want to siphon off as much of the profit as they can with higher taxes and increased government regulations.
But one of the major disincentives to increasing employment growth in Australia is the onerous and unjustified, payroll tax; a tax that was introduced in 1941 to finance a National Scheme for Child Endowment.  How times have changed.  In 1971 the control of this national tax was handed to the states and over the next three years the rates increased from 2.5% to 4.5%. In some states this tax is as high as 6.8%.
No longer a source for child endowment this tax accounts for up to 36% of a state's total revenue.  Any wonder there is no light at the end of this tax tunnel.  Today this tax is based on the number of people you employ and the wages and incentives you pay. The more people employed the more payroll tax you pay.  And if that isn't hard enough, the state governments are continually looking for ways to increase this windfall.  If we want to pay our staff incentives to stay and work harder these extra payments come under the payroll tax calculation list.
This list is long and disturbing, superannuation, travel allowances, car allowances, bonuses, gifts for long service i.e. 10 years, 15 years, 20 years and more.   We pay income protection and life insurance for some of our key personnel, payroll taxable.  And then to add insult to injury we are forced to pay tax on a tax.  Fringe Benefits Tax paid on motor vehicles expenses, travel expenses, internet and telephone expenses, is caught in the web of payroll tax.
At a function a number of years ago, my husband asked the Hon. Peter Beattie, the then Premier of Queensland, why we had to pay payroll tax.  His reply, so typical of all politicians cornered, 'I'll get back to you.'  He never did. But as an employer of 80+ staff we pay the tax, what else are we to do, and grow the business and our staff levels in spite of the government's disincentives.
What are the biggest challenges for your business going forward?
Chasing bad debts in this economic recession has proven very difficult as the knock on affect makes recovery almost impossible.  Businesses have had to tighten up their credit control, research potential customers from a financial point of view and turn down work when the reports are unfavourable.  This kind of research takes many people out of their comfort zone and can cause disputes between first and second generations.  For those who have been in business for twenty or more years dealing with the same companies it was often the case business was done on a handshake.  This new generation is definitely looking for more security and confidence in the businesses they are dealing with.  This can only be seen as a positive but none the less it can still create family disputes.
As business tightens from the top down those larger companies that normally would only quote jobs at the higher end of the scale are now coming down into the domain of the small to medium family business.  This creates a tightening of the belt for the smaller businesses as the larger private companies can afford to buy jobs and catch up in other ways, through maintenance contracts, which the family businesses can't necessarily afford.  It seems that some of these larger companies doing the work at less than cost are dropping the ball on the quality of their workmanship.  Life cycle costing is not an adage bandied around by these businesses, where as for our company, developing and manufacturing products that are reliable, accurate and user-friendly has always been our mission.
Finding good and reliable staff has and will always be a challenge. Marketing and sourcing new business; finding economical ways to promote and advertise the business to achieve positive results and keeping up with new technology; all challenges for business going forward.  In this new technological era, laptops, personal organizers and immediate communication seem to be a must.  Creating a professional and interactive website is one way of marketing the business.
Our business has an IT department with an exceptional Web and Software developer.  We have developed, for our distributors, individual websites that include a welcome message, information about each of them, areas they serve in their particular state or country, a list of services and contact information. There is also a link back to our website for those wanting more information on our products and our distribution network.  This has been a huge undertaking by us but one that has been greatly appreciated by all distributors.
For those smaller businesses a professional and interactive website can be a high cost when having to contract an outside company.
For white South African companies who do not have a BEE rating, doing business will become more difficult as potential clients and current ones are encouraged to apply the codes in their dealings with one another so they themselves are able to achieve a higher BEE rating.  The follow on of this growth strategy will be to leave those with no BEE rating or extremely low ones, out of business.
In the United Kingdom survival over the next two years will be their biggest challenge. As many companies, large and small, go to the wall the markets become crowded as everyone is sourcing business in the same areas.  Two years ago the Sterling stood around AUD$2.4/$2.5/£. The current rate is AUD$1.58/£.  This equates to a 36% drop with no signs of improvement and a massive increase in costs of product from Australia; something that cannot be maintained indefinitely.
The uncertainty within the present global economic climate influences some businesses and their customers to limit spending which in turn limits growth in sales and the stimulus to the local economy. For some they have experienced lack of confidence in the future which has led to erratic sales and growth patterns.
Maintaining an attractive product and workplace with consumer spending curbed and maintaining costs of operation during a flat market will certainly challenge many of the surveyed companies in the future.
Choosing the best business management courses to further develop the owner's skills can be a minefield. Many companies have joined industry associations like Australian Industry Group, Australian Institute of Management which provide courses in all manner of business management.
As was stated in the Financial Review December 11-12 2010 –'A good tax system should be simple, fair and efficient. It should be transparently and predictably administered as well, and subject to adequate scrutiny.  Our tax system and its administrator, the Australian Taxation Office, fall well short of these ideals.'
I am certain all businesses; family, private or public are very much aware of this short fall from our present government.  'It's not rocket science' as the saying goes.  Keep changing the goal posts or keep taking hard earned profits and businesses will start looking elsewhere in the world to try and make a dollar; another challenge in the life of a family business.
In Summary
For our business, as 2011 is dawning, we will finish the new building, move in, send our sons on well-deserved holidays and get on with the business of being in business.  As the largest Australian manufacturer of electronic controls for the building management industry our future is in Australia's growth first, then the worlds.  As we wait for the USA to come out of the GFC and watch Europe and the United Kingdom get back to positive growth we will explore other avenues and other parts of the world, the Middle East, Asia, South America.    We will diversify.
We have a positive outlook for the future; we have the second generation working hard beside us, taking nothing for granted, putting in the long stress filled hours, making the hard decisions.  We know our business; we have a great working culture and ethic.  We also have a great network of family businesses who share our culture and ethics.
So in closing, my survey and those of others, has shown that the dominance of family business in the World Economy is the rule not the exception.  If we want to improve world business start with a family run business. If we want to improve the life of Family Business then it is time for the policymakers worldwide to listen.
Endnotes
KPMG and Family Business Australia Survey of Family Businesses 2009
http://www.smartcompany.com.au/strategy/20100728-women-still-struggling-to-break-into-family-business
http://www.gaebler.com/Family-Business-Statistics.htm
http://www.scoop.co.nz/stories/family-businesses-crucial-to-success-of-Economy
http://www.bdo.ca/markets/familybusiness/index.cfm
The Senate Proof Adjournment – Family Business Sector – Speech Tuesday 27 October 2009 – Senator Sue Boyce
Financial review – Commentary – Tax administration must be fair, predictable – December 11-12 2010