After Maureen Paschal's amazing discovery of the Arques Gospel of Mary Magdalene, she begins the task of writing Her Story.
Two years later during another dream vision she is told by Easa, Jesus Christ, she must search for a secret book, his gospel, written in his hand, the Book of Love.
She can find no historical reference to this document.  Then unexpectedly she receives a package, letters written in Latin. With the help of her cousin Father Peter Healy, they discover a story of an extraordinary woman, Countess Matilda of Tuscany.
Matilda is an 11th Century warrior countess whose dedication to The Way and knowledge of The Book of Love changed the face of Tuscany and Lorraine. She is a Countess, who secretly married a Pope, ordered and oversaw the building of bridges, churches and the monastery in Orval.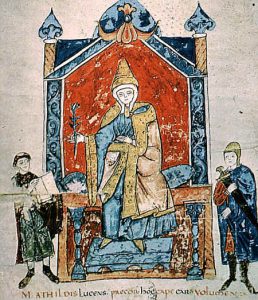 Matilda writes of the Book of Love and its copy, the Libro Rosso. But where are they now? All reference to them obliterated from the history books.
Kathleen introduces us to heroines, Modesta, Boudicca, Jeanne of Arc and the legend of Ariadne and the mystical Labyrinth. Were they The Expected One's as written in the prophecy? What were they protecting that was worth dying for? What makes one an Expected One?
Maureen finds herself in a dangerous battle against an unknown force that seeks to destroy the Book of Love.
Immerse yourself in the story of Matilda and Maureen. Learn the meaning of Kathleen's one truth—I have loved you before; I love you today; and I will love you again. The time returns.